A few months ago my friend Kristen asked some of her running friends, including me, about running a relay race in Door County in October, the
Fall 50
. It sounded like a great idea. I had run the Ragnar Relay Great River last year from LaCrosse, WI to Minneapolis and it was a wonderful experience. Before too long Kristen had our team, the Saint Paul Running Co., entered in the race.
Kristen, our team captain, did a great job of searching for sponsors, we got some Coffee coupons from Caribou Coffee, some race rolls from the
Great Harvest Bread Company
, and some funds to buy team shirts and some of our other expenses from
Nutritional Weight & Wellness, Inc
.
Fast forward to the day before the race. We were all packed and ready to go in the morning. The team was Kristen, Karl, Dave, Ted, and I. Dave was extending his vacation so he drove separately as well as Ted who had to work the morning after the race. We were all staying in the same Hotel in Sturgeon Bay, the Best Western Maritime. After a long and rainy drive to Sturgeon Bay, I could not find the Hotel. I usually need to print out maps and directions ahead of time as I'm not good at figuring out how to get to places while I'm driving. We had written directions that were great, but lacking a bit of detail for the end of the drive. We still arrived in plenty of time, got our rooms, and then drove to the Hotel where we picked up our race packet.
I slept well Friday night and had a large breakfast Saturday morning. Our team's starting time was 9am. Teams started at 8, 9, or 10am depending on their projected pace. We were down as an 8:00 pace/mile team but thought we may do better than that. The solo runners started at 7am and we were watching for them on the drive up. We came across the leaders; the first three were running side by side. I recognized John Storkamp, the 2nd place solo runner from 2007 and the race director of the
Afton Trail Run
25K/50K. The solo runners were about one hour into their day at that point. We would start ours in another hour. Now onto some pictures.
An hour to spare so we might as well start writing on our car.
Karl, Dave, Ted, Kristen and I at the start.
Off they go, Ted is our first runner.
Ted, Karl, and Dave ran their first legs. Now it was my turn and I'm running a 7.5 mile leg in Peninsula State Park. It's just beautiful, the weather is cool (40s?) with some wind. The temperature is perfect for me! Some leaves were still on the trees! It was on this leg that I was passed by a running for the first (and only) time. We chatted for a minute and he told me it took him 5 miles to catch me. I think he was running at about a 7:00 pace.
I'm very happy and moving right along. It couldn't be any better than this!
Below, I'm the runner that looks like a tiny spot of red, just around the bend in the road. Another beautiful Fall scene.
Ted ran again and was to finish at the half-way buffet. While waiting for Ted, I had two servings of chicken soup, a banana, and 4 little candy bars. Maybe more but that's all I can remember. We had a spreadsheet with projected times for all our runners. Everyone was running ahead of schedule and Kristen asked me how much longer before Ted would show up. I said 3 or 4 minutes and it wasn't 10 seconds before he rounded the corner and Kristen was on her way. I had to finish my soup in the car at the next aid station. Dave ran next and then it was my turn for a 6.1 mile leg. I felt pretty good for only having about 90 minutes between legs. Although I ran my first leg at around a 7:15 pace, this one was much slower, partly due to fatigue, and partly because I was running directly into the wind. I ran this leg in the upper 7:30's.
Here is my handoff to Kristen at the next aid station. I'm getting close!
She's got it!
Away she goes!
It turned out we were running more than 30 seconds faster per mile than planned! A side effect of this is that the farther we went, the fewer runners there were. Porta-potties were also getting 'fresher'. We drove to aid station 9. Solo runners were going by but only one 8am team had run through at that time. It wasn't long before team 322 came through. They went on to win it in 5:04. Wow! Kristen came in and Karl started out on his, and our team's, final leg.
Karl alone on the road.
Karl's looking very strong and running just over a 7:00 pace! Nice!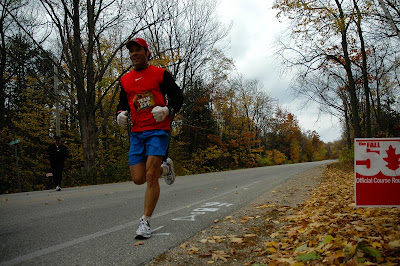 One more pic before we headed to the finish line!
Here's the team (except for Ted who took this pic) running to the finish behind Karl.
6:11:20 finish for 13/144 overall; 6/82 in the open mixed division!
There was a huge tent setup for the after-race party. There were mostly solo runners in the tent when we arrived because we were the third team to cross. I knew many 10am teams would finish ahead of us due to their faster pace. We found that out at the awards ceremony. I did a quick look around for John Storkamp and didn't see him. This didn't surprise me as he finished more than two hours earlier (6:04 for 1st place and new course record!). We ate some pizza, drank a beer, and headed to our hotel for showers and came back later for the party. When we got back the place was packed. The party was very good and there was plenty of food and drink for everyone. Later, a DJ was playing songs and little kids were dancing. Some big kids (like me) hit the dance floor about 7:30 and closed the party down about 8:15 or so.
This ended up being my favorite race of the year. I think the Afton 50K and the Twin Cities Marathon were tied as my second favorites. I always had said that the Ragnar Great River Relay was my favorite but the 'up all night' running really makes me tired for a few days. The Door County Fall 50 all-day-race was perfect!
photos by Ted R., Dave A, and me.
--Mark